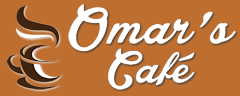 MY ORDER
MY ACCOUNT
REGISTER
MEMBERS LOGIN
LOGOUT
OUR MEMBERS HAVE ACCESS TO OUR ONLINE ORDERING SYSTEM AND RECEIVE 10% OFF ALL ONLINE ORDERS!
Contact Omar's Cafe and Restaurant
Tel: (+1) (284) 495-8015
NOTE: To place an order please browse our menus and select your dishes and drinks.
---
We are located in Soper's Hole Marina
Opening hours are:
Open 7 days a week
Serving breakfast from 7:00 am to 12:30 pm
Open until 2:00 pm for coffee and other beverages
---
Tel:
(+1) (284) 495-8015/ 1(284)3467771
---
Annual closing dates
We close the first Monday in September until the third Monday in October for annual maintenance and a little "us" time.
Our location on a map
---
---